Jollof Rice: Mix Spice, Recipe & Preparation
Jollof rice spices are versatile flavors that add taste to the popularly known jollof rice. However, jollof rice is a very sweet delicious meal, prepared with the help of jollof rice spices, to add the 'Jollof feel' and taste to it.
All over the world, today people eat jollof rice but there is no doubt that the West African jollof rice style is the best.
One of the big keys to making a delicious jollof rice is by taking your time to prepare it so that the flavors and spices used in conjunction with onions and others can be absorbed by the rice.
Most people break their jollof rice cooking into 3 stages to achieve their desired result.
However, this article will be an eye-opener in the cooking process of the African delicious jollof rice.
If you haven't tasted Nigerian jollof rice, then you should keep up with this article as we will be dishing out the steps and process of cooking a delicious jollof rice.
You should also know that some ingredients needed in the preparation of jollof rice can be seen in groceries or supermarkets around you.
After reading this article there will be no doubt that you will fall in love with jollof rice, as it is very nutritious due to it prepared with many varieties of vegetables.
After cooking your jollof rice you can preserve it by storing it in a tight container and keep in a cool place.
Read Also: Food Poisoning: Types, Symptoms, & Treatment
Jollof Rice With Jollof Rice Mix Spices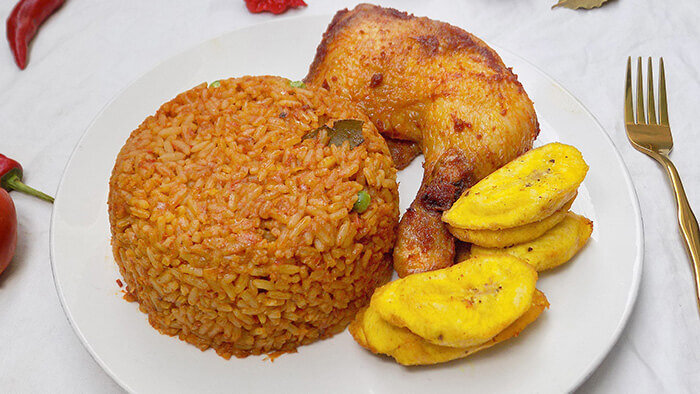 The preparation time for our jollof rice will be 1hour, cook time is 2hours, so it will take us 3hours to prepare a sweet-tasting delicious Jollof, but you can choose to use 4hrs to prepare your Jollof, for all the ingredients and flavors to be well absorbed.
The Jollof Dry Spice
By following the list quantity of ingredients here, you may end up cooking for 6 servings. So you can preserve the rest by keeping it in a cool and tight container.
(1) 1½ grinder ginger
(2) 1 small clove of garlic powder
(3) 2 dried chili flakes
(4) 1 heaped dried thyme flavor
(5) 1 grinded cinnamon
(6) ½ grinded nutmeg
(7) 1 grinded coriander
(8) 1 pinch of salt
(9) 1 pinch of grinded black pepper
Read Also: 22 High Fiber Foods we have and their Contents
Jollof Rice Sauce to Be Used
(1) 1 small onion
(2) 1 curry powder
(3) 1 chili powder
(4) 4cm of fresh ginger
(5) 1 garlic clove
(6) ½ a scotch bonnet chili, deseeded (you may decide not to use this!!)
(7) 1 thyme leaves
(8) 1 flat Jollof dry spice mix (half of the above)
(9) 250g fresh diced tomatoes
(10) 1 tomato puree
(11) Flaked sea salt to taste
(12) 50ml good vegetable stock
Read Also: The Top 10 Most Inexpensive Healthy Food Recipes
The Rice;
(1) 2 large onions
(2) Drizzle with olive oil or groundnut oil
(3) 6 – 8 chicken thighs or breasts
(4) 2 garlic cloves, finely chopped
(5) 3 thyme leaves
(6) 1 bay leaf
(7) 3 guinea peppers or crushed cardamom pods
(8) 1 scotch bonnet chili, deseeded & diced
(9) 2 of your Jollof dry spice mix (above)
(10) 1 sea salt
(11) 4 groundnut oil or sunflower oil
(12) 1 hot chili powder
(14) 1 curry powder
(15) 250ml of the Jollof sauce you made
(16) 300g basmati or other long-grain rice(white rice)
Read Also: Suya Spice (Yaji): Recipe, Preparation & Facts
Jollof Rice Preparation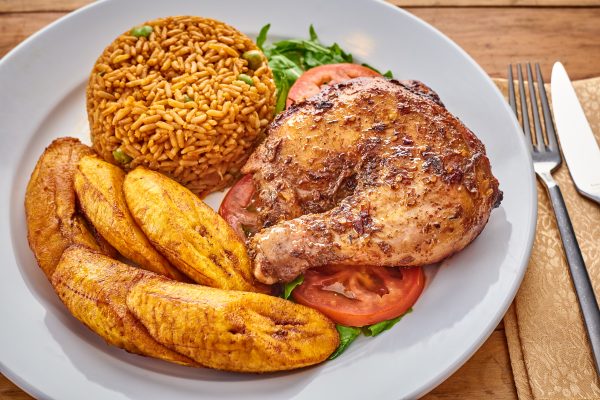 (1) First and foremost mix all the grinded and powdered spices together in a bowl, and then keep the rest aside if in excess.
(2) Next, put a source pan on a gas heater or stove and cover the bottom of the pan with oil. Once the oil gets hot, add the onions and reduce the gas heat to a minimum temperature and wait till the onion becomes translucent.
(3) Pour chili powder and curry into the pan and stir for a couple of minutes.
(4) Next, add your thyme, ginger, chili, garlic, and ginger to your Jollof spice mix and stir well until it is well mixed together.
(5) At this point, you can your tomatoes and tomato puree sauce to your pan. Also, add your salt and stir for some minutes continuously until you achieve a more soupy texture.
(6) Now, simmer over low heat for around 30-45minutes. Then add pepper and salt. However, if by chance you have any excess spice, you can store it in a tight cool containing and use it another day.
Read Also: Guide on How to Produce Fumigation Process
The Rice;
(1) Remove your boiled rice from the heat, and remove the boiled rice water. Put a fresh pan on another heater place your chopped onions in the little oil, add the chicken, garlic, bay leaf, and a tablespoon of Jollof spice mix.
(2) Secondly, pour in enough water just to cover the ingredients and allow for a couple of minutes to boil, after that reduce the heat and simmer for 20-25 minutes, do this until the chicken becomes tender.
(3) However, while waiting for your ingredients to simmer, preheat your oven to 180°c. After the simmer is done remove your chicken from the pan and place it on an aluminum tray, add sprinkles of groundnut oil. And bake in the oven for 20-30minutes.
(4) Drain the water from the simmered chicken and ingredients into a jug and set aside for adding to the rice later.
(5) Now, to prepare the Jollof finally bring in a pan and place on the heat, add little quantity of groundnut oil add little chopped onion and heat for 1minutes and pour your chicken and ingredients broth residue from your jug into the pan or pot.
Read Also: How to Properly Dispose Your Home Appliance Wastes
(6) Mix your remaining Jollof dry spice mix and curry powder together with your chili powder and add 300ml of your Jollof spice. And stir for a while.
(7) Now, bring in your boiled rice and wash it again thoroughly in cold water to remove dirt and particles from the rice, also starch. Wash the rice for like 3 times, then drain the water from the rice and pour it into the jollof rice mixture. Make sure it's all covered in the Jollof spice mixture.
(8) Add your remaining Jollof sauce into your jollof rice mixture in the heat and stir well, reduce the heat and cover your pot/pan with a foil or cover and allow it to steam and cook for 15-29 minutes until all the liquid has been absorbed and the rice becomes tender.
(9) Now, check your chicken in the oven, bring it out and serve the jollof rice with the chicken pieces on top, you can also garnish it will salad, herbs, and chopped carrots, to add more nutrients to it.
Read Also: Garri (Cassava) Production Process Complete Guide
Was this article helpful? Share your thoughts and opinions in the comments section below.
Have you visited our Market Place Today? Follow this link to visit WorldMarketSite.com Market Place now to check out our affordable products & services that might interest you and solve your current needs at a very cheap price. You can also Advertise your Own Products & Services at the Market Place for Free by clicking on this link to Get Started!
Create a thread for all your related questions to get answers from other members and professionals in the field. Click here on the "Questions & Answers" Section to view or submit your Questions or Answers to previously asked related questions.